Five months after changes to its Terms of Use and Privacy Policy were announced, WhatsApp will enforce the new measures starting this Saturday, May 15th. If you still have doubts about the consequences of (not) accepting the new terms of use in the Instant Messenger update, read on and see what changes will be introduced if you accept the new privacy policy.
WhatsApp's new Terms of Use and Privacy Policy will come into effect on May 15th.
WhatsApp will not delete your account if you do not accept the updated Terms of Use and Privacy Policy.
The use of WhatsApp functions is restricted until you accept the new terms of use and data protection regulations.
As one of the largest tech companies in a world where almost everyone has the right to vote, Facebook has to jump through numerous regulatory frameworks. After all, the company has 3.5 billion active users per month on its services – that's almost half of the world's population. And one of those extremely popular services is WhatsApp.
Because of this, when it was first announced that the instant messenger will share user data with Facebook itself, a heated debate took place in the popular media, as well as in various institutions that continue to struggle for the right of users' privacy to be within the US Hands of the user.
According to the new regulations, WhatsApp users only have two options: they can accept the data exchange in the app itself with Facebook and the affiliated companies or they can reject the new policy, which in turn has a reduced range of functions. This feature regression will continue until you have to accept the new Terms of Use and Privacy Policy, or simply choose a different messaging service.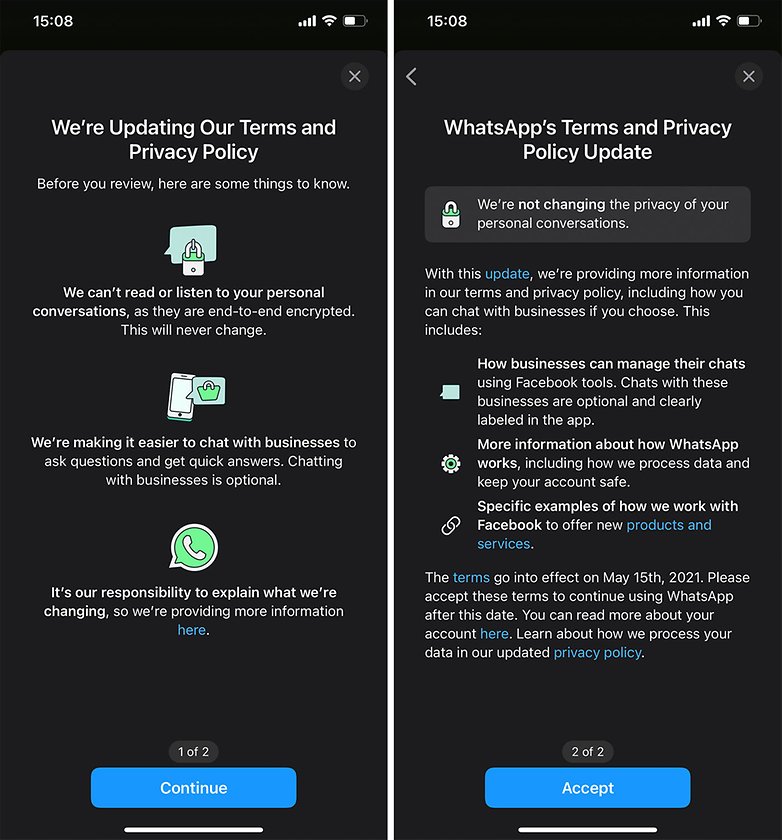 What if you accept the new changes?
First of all, it needs to be made clear that WhatsApp conversations will continue to use the end-to-end encryption system. This results in private conversations where only you and your contacts can access the contents of the exchanged messages.
However, by accepting the new terms of use and privacy policy, you are also sharing the following information with Facebook and its affiliates:
Registration information such as phone number, name, profile picture and status.
IP address: Even if you do not use the location-related functions in the app, the service is dependent on IP. Addresses and other data such as phone number and area code to calculate your general location.
Device information (battery level, carrier, carrier signal strength, Facebook, Messenger, and Instagram identifiers that you can use to compare data from the same user across all three platforms).
Transaction and payment data.
Reports and performance records.
In addition, the messages also focus on WhatsApp Business:
Usage and log information: Data related to the use of the branch function, such as: B. Type of products viewed or purchased, functions used, time and actions you performed, frequency and duration of your activities and interactions.
Under WhatsApp's new Terms of Service and Privacy Policy, companies that have access to this data may include:
Facebook Payments: A payment service from Facebook.
Onavo: A web analytics and monitoring service from Facebook that has been controversial in the past as a rather controversial VPN app.
CrowdTangle: a social media analysis and monitoring tool.
Facebook technologies: Oculus VR.
With the terms going into effect on May 15th, these Facebook affiliated companies will be able to store, manage and process your WhatsApp data.
According to Facebook, in addition to improvements in terms of service security and infrastructure, there are other points to consider:
Improving services and experiences, including suggestions for users (e.g. content recommendation, group connections or friends)
Integration of WhatsApp with other Facebook services such as Facebook Pay
In this way, Facebook can develop its own business solution and turn WhatsApp into an interface for payments and customer relationships.
What if you don't accept the new changes?
Facebook has made it very clear that the account of those who do not accept WhatsApp's new terms of use and privacy policy will not be deleted. In other words, no one will lose access to WhatsApp features when May 15th starts when the update goes into effect. However, anyone who refuses to accept the new terms of use and data protection regulations will have long-term consequences.
You will still receive a notification with information about WhatsApp's new Terms of Service reminding you to accept them. According to the company, there will be a point in the future where this reminder will appear permanently and result in more and more features being disabled. In this case, the following restrictions apply:
You cannot access your conversations, only receive voice and video calls.
If you're already receiving WhatsApp notifications, you can tap them to read and reply to messages and return missed voice and video calls.
After a few weeks of restricted feature use, you will no longer receive calls or notifications, and WhatsApp will no longer forward messages and calls to your phone.
The length of the new grace period remains unclear at the moment. We just know that "not all users will get these changes at the same time".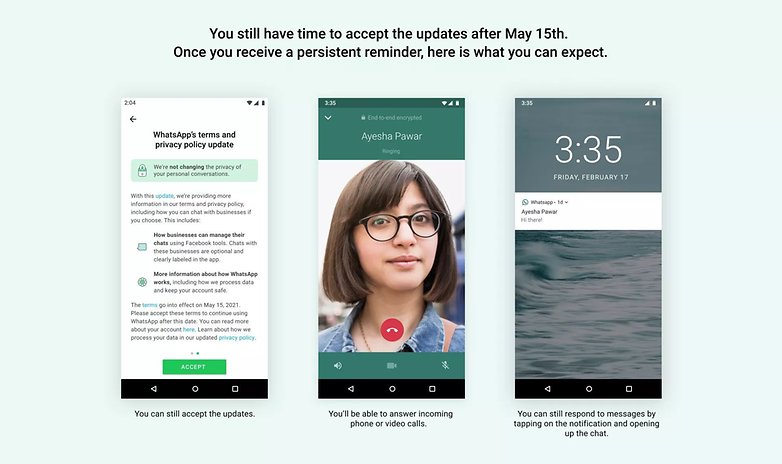 Even if WhatsApp doesn't delete your account, the app will basically force you to keep using the instant messaging app if you don't accept the new terms of use and privacy policy.
Remember that you can accept the updated Terms of Use and Privacy Policy in WhatsApp yourself at any time.
My Opinion: I do not agree to share WhatsApp data with Facebook for the time being
Despite all of the debates surrounding changes to WhatsApp's Terms of Use and Privacy Policy, a statement was taken up by TechCrunch A Facebook spokesperson touted that the vast majority of users notified by WhatsApp of the updated Terms of Service have already accepted these changes.
Yes, Facebook has made it clear that the new terms of use must be accepted in order to continue using WhatsApp with all its functions. Also keep in mind that this is a widely used instant messaging app in numerous countries with a total of over 2 billion users worldwide. Let's face it, the chances of you continuing to use WhatsApp are huge.
However, you do not have to accept any of the changes and pass on your Messenger data to companies linked to Facebook, as there will no longer be any consequences after May 15th. At least that is the promise of WhatsApp itself. My suggestion is why not wait and see how the company will deal with the problem in the coming weeks or maybe months, as no timeframe has been set so far.
In any case, it should be noted that the option to share WhatsApp information with Facebook has been available since September 24, 2016. This happened during the first major update of WhatsApp's privacy policy, which by then had been part of Facebook for two years.
So if you had used instant messenger back in 2016 and had not opted out of exchanging data with Facebook this year, you would most likely have exchanged this information between the platforms.
To find out if you find yourself in such a situation, you need to request your account details first. To do this, start WhatsApp and go into the settings (the three-dot menu on Android or the settings on iPhone) tap Account, and choose Request account information. A report with your data will be available within three days. If you do so today, you will still have time to decide whether to accept or reject WhatsApp's new Terms of Service.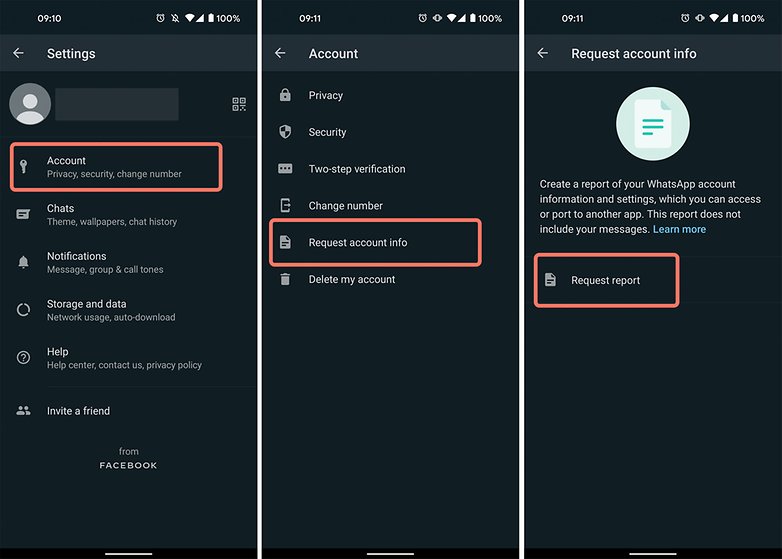 Either way, there are several messaging service options on the market, some of which are superior to WhatsApp itself. Check out some of them from the link below:
Personally, I'll wait for all possible scenarios to play out before deciding whether to accept sharing my WhatsApp information with Facebook-linked companies. Right now I'm curious to see what your next course of action is:
Remember that taking part in our surveys is anonymous! However, we strongly encourage you to debate and share ideas in the comments section.