Can Apple's legendary Memoji also be used on Android? After all, they have been around for a long time. Surely someone has found a way to get them on Android by now, right? That's exactly what we're going to find out in this article!
To get started, be aware that Android users have several apps that mimic the functionality of Memoji. This article is for people who want that exactly iOS variants of the Memoji on their Android smartphones. Since there is no "native" way to do this, be warned that you do become You need to borrow an iPhone to do this.
Jump to:
As explained earlier, Memoji is a personalized, custom, user-created Animoji. You can use them to create a mini-comic version of your face (or someone else's face if you so choose). These custom animoji allow you to customize your skin color, hair, eyes, mouth, glasses, facial hair, face shape, etc. Android users already have access to Memoji (not on iOS) thanks to apps like Bitmoji on Snapchat or AR Emoji on Samsung.
On Apple devices, users can create a Memoji in the Messages application. Since iOS 13 and iPadOS, Memoji has become a collection of stickers that you can access from your keyboard. In order to create a Memoji on your iOS device, you need to do this.
Open the news application
Press the Animoji (monkey symbol) icon and scroll right
Click New Memoji
Customize and validate the properties of your Memoji
Your Animoji will be created and a Memoji sticker pack will then be created automatically!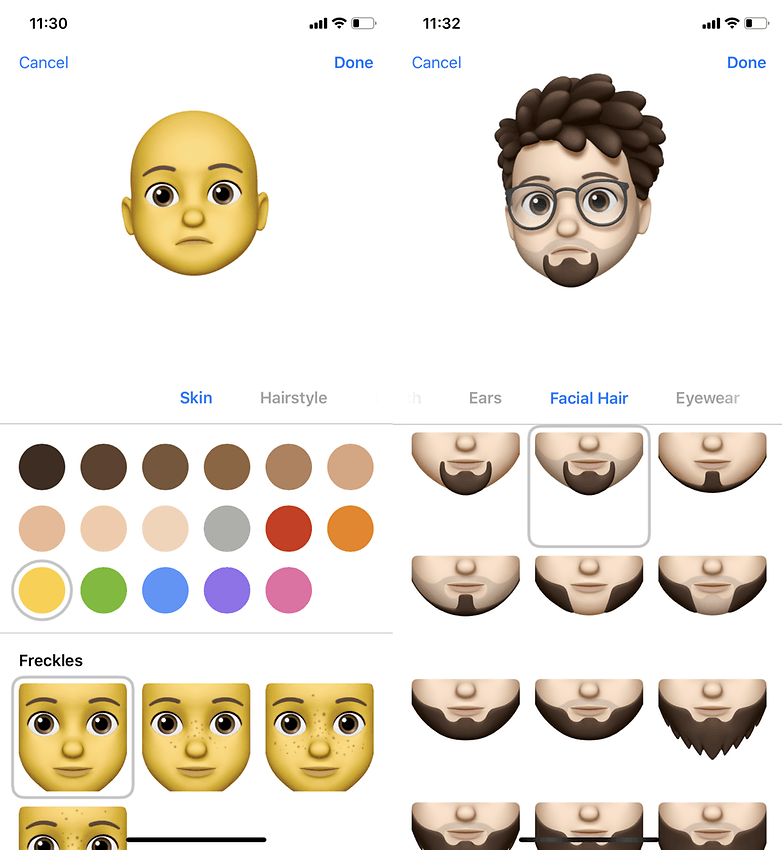 Do you have a buddy with an iPhone or does your boyfriend or girlfriend use an Apple smartphone? Then all you have to do is borrow it for a few minutes and use it to create your own memojis:
To do this, open any messaging app on the iPhone and use the iPhone keyboard to create memojis. Here's how to do it.
Open that announcements application
Click the Animoji (monkey) icon and scroll right
Select "New Memoji".
Take your time and create / customize your own memoji
The Memoji sticker pack will be created automatically
Now you can use the messenger app of your choice to share the stickers you created with any phone – Android devices too!
To share this with your Android phone, you need to use any messaging app on the iPhone and send the memojis you just created to your Android phone. Here's how to do it with WhatsApp.
Open WhatsApp on the iPhone
Write a message to your number
Tap the emoji symbol on the keyboard and then tap the three dots "…"
Select the Memoji you want and send it.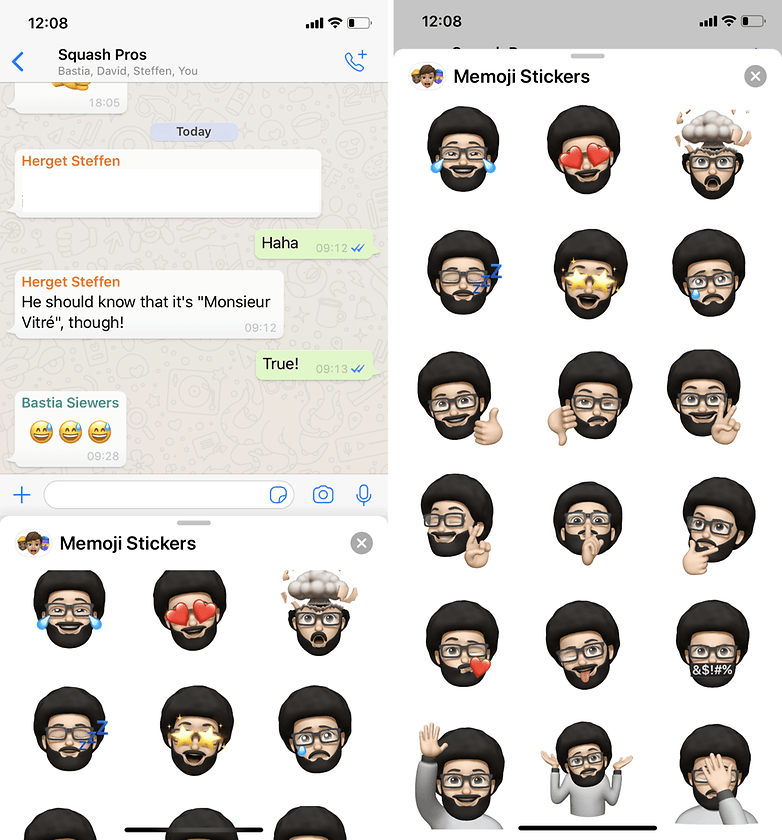 Take back your Android smartphone and do the following:
Click on each sticker and save your sticker by selecting it Add to favorites
The memojis will then be saved in your WhatsApp stickers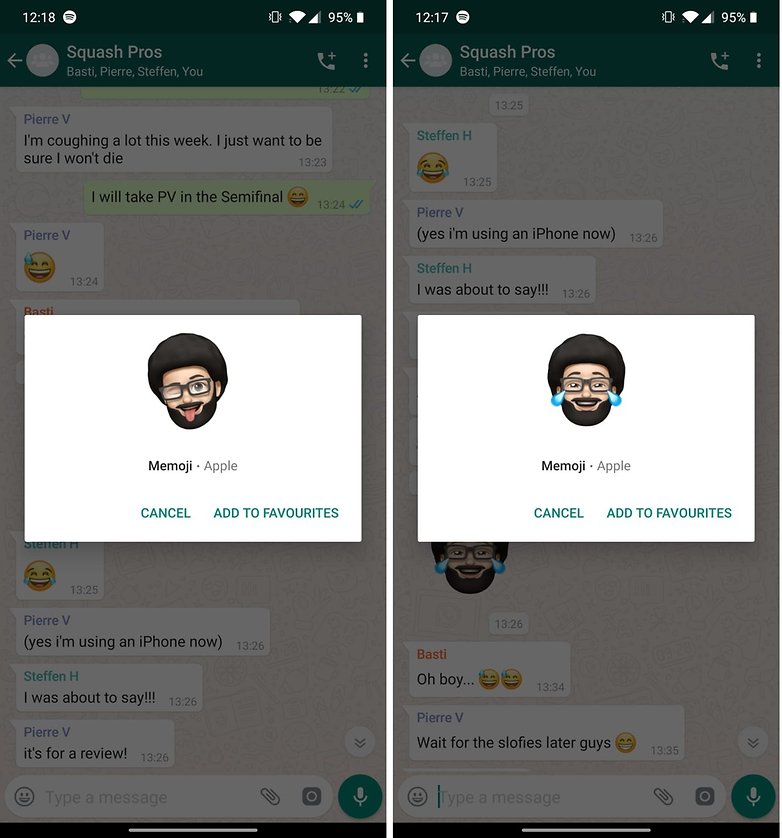 To send your Memoji to one of your friends, just access your WhatsApp stickers. Unfortunately, it is not possible to save them on your Android keyboard for SMS to be sent.
If you are just too busy to try this method, you should know that there are several Memoji alternatives available for Android smartphones. In fact, these apps are much easier to use than trying the "convoluted" method mentioned above. On the other hand, this was for people who wanted to see these iOS-only memoji on Android devices.
There are several apps that you can use to create memojis on Android devices. Let's look at two alternatives that caught our attention.
Google Bitmoji
Perhaps the easiest is Google's GBoard keyboard app, which bakes Bitstrip's Bitmoji memojis in its settings. If you don't have Gboard installed, you can download it from the Play Store. Once installed, all you have to do is click the smiley face in the left corner of the keyboard. What you need to do now is select either the 'Minis' or 'Bitmoji' option.
Clicking Mini will immediately take you to a screen where you can take a selfie to make a memoji. If you click the Bitmoji option and the Bitmoji app is not already installed on your phone, Gboard will prompt you to install the app. Now all you have to do is follow the on-screen instructions for Bitmoji and you will soon have plenty of memojis to choose from on your Android phone.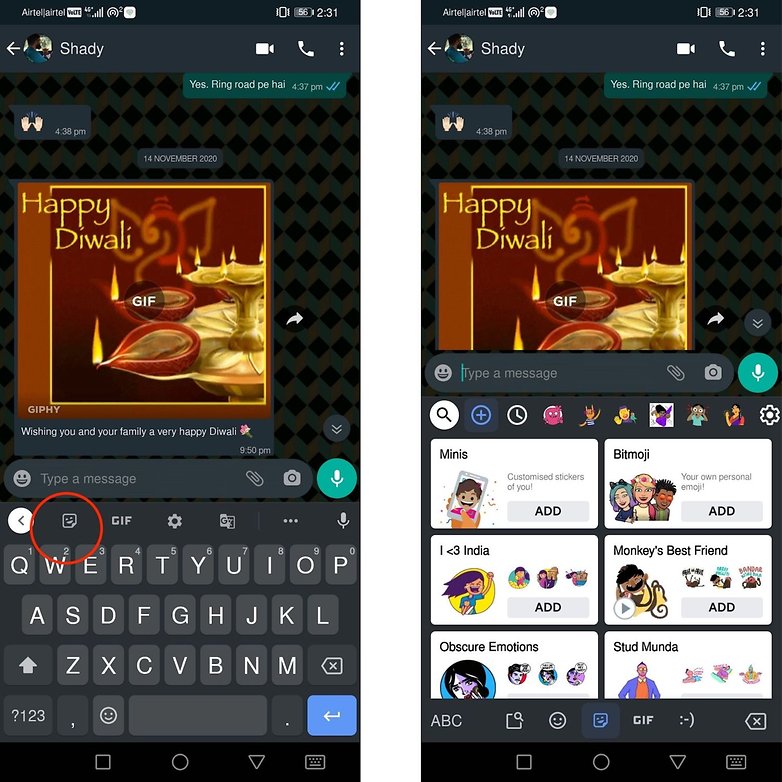 While there is talk of Bitstrip's memojis not being as "artful" as Apple's, we're pretty sure these memojis will keep most Android users happy.
Samsung AR Emoji
If you are jealous of Memoji and a Samsung user at the same time, consider yourself lucky. Because the Korean smartphone brand offers perhaps the "best" Memoji alternative for Android smartphones. The key to happiness lies in the "AR-Zone" app, which should be preinstalled on your Samsung smartphone.
Open the AR zone.
Create an AR emoji with the AR emoji camera.
Then go back to the main menu and create a sticker pack with the selection "AR Emoji Stickers".
Now you can select and send the stickers on the Samsung keyboard (also pre-installed).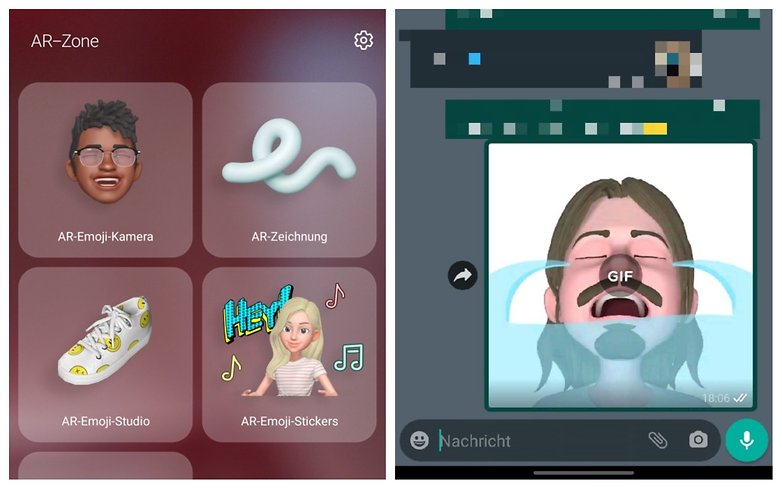 If you're looking at a comprehensive list of Android Memoji apps, you can check out our dedicated article about them at the link below
Aside from these two apps, we don't recommend trying any other Memoji apps that you might find on the Google Play Store. These apps often hide subscription traps or the apps promise a lot more than they actually deliver. But hey, who should we judge? Let us know if you know of any other valuable Memoji apps for Android!
---
This article was last updated in April 2021. Older comments have been retained.