David Bowie once sang, "Turn around and face the strange ch-ch changes." He could have been singing on iOS 15 and iPadOS 15 Apple will discuss virtually on June 7th during its World Wide Developers Conference (WWDC 2021). According to Bloomberg's Mark Gurman, Apple is working on changes to the software that will improve how users handle notifications, and more.
Changes to notifications in iOS 15 and iPadOS 15

Quoting people familiar with the matter, Gurman mentions that Apple will be redesigning the iPad home screen, refreshing the lock screen, and adding more privacy to its flagship smartphone and tablet models. The sources wanted to remain anonymous as they discussed information that the tech giant has not yet officially released. Additionally, after roughly six and a half weeks leading up to WWDC, Apple still has time to delete some of the changes it tested.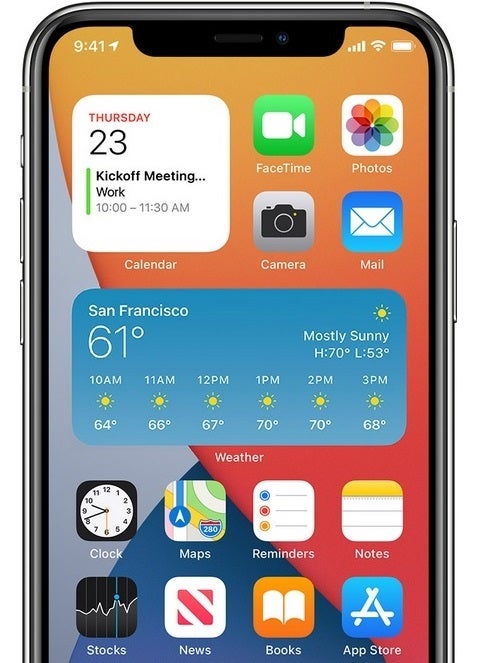 Widgets like the ones shown here on iPhone are available for every part of the iPad home screen in iPadOS 15
In iOS 14, Apple added Android-style widgets to the iPhone home screen. These widgets are allowed anywhere on the iPad screen in iPadOS 15. Following the new privacy features Apple has already rolled out or is about to roll out, a new feature shows users which apps are silently collecting data on them.
One of the most exciting changes is in notifications as it was a sore point for iPhone users. It starts with a new menu, located on a device's lock screen and in the Control Center, allowing users to choose whether to drive, work, or sleep. A custom category can also be selected.
Depending on the status of the user, he can make certain changes to the notification system on his device. For example, the user can set the iPhone to make noise or be silent when a notification is displayed. Automatic replies to messages can be sent based on the user's status, rather than just while driving. This is how the system works now.
Apple is also planning changes to its popular iMessage app with the aim of making it a social network similar to Facebook's WhatsApp. In the report, Gurman said this change is still in the early stages of development and may be released after iOS 15 is released. That launch should come in September around the same time Apple launches the iPhone 13 series in 2021.