Wondering how to record a WhatsApp video call? Well you, my friend, are in the right place! Before we even begin to discuss the various methods we currently have for recording WhatsApp video calls, I want to point out to you that this procedure is no longer as simple as it used to be.
Jump to
Is it possible to record WhatsApp video calls in 2021?
The quick answer to this question is a resounding yes. 2021, you can record WhatsApp video calls on any Android phone. What that "yes" doesn't reveal, however, are some of the problems you may run into when actually trying to do this.
The only way to record a WhatsApp video call is with the help of a screen recording app. Several manufacturers are bundling their phones with a native screen recording app. In case you have one of these devices, you can simply activate the screen recorder and your WhatsApp video call will be recorded with ease.
If your smartphone is running standard Android, rest assured that your phone doesn't have a built-in screen recording app. On such devices, you need to download and install third-party screen recording apps like MNML screen recorder or AZ screen recorder.
Regardless of which route you take (native app or third-party app), you will almost certainly encounter one of these three scenarios.
The call is recorded normally and you can clearly hear what both parties are saying. (Yay!)
The call is recorded, but you only hear your voice and not the other party's voice. (Uh)
The call is recorded without sound by one of the participants. (Meh)
After our research, we found that the second scenario is the most common problem users face while recording WhatsApp calls and unfortunately there is currently no solution in sight.
For the purposes of this article, we tried to record WhatsApp video calls on three devices – one with Xiaomi's MIUI, another with Realme's RealmeUI, and a third smartphone with standard Android. Only one device – the one running MIUI was able to audibly record the call with the sound of both parties. We couldn't hear any sound on the phone with stock Android no matter which app we were using.
How to Record WhatsApp Video Calls
Record WhatsApp calls on Android devices (or any Android phone)
You need to install a third party screen recording app to record WhatsApp calls on a standard Android phone. We tried two apps – AZ Screen Recorder and MNML Screen Recorder. You can install one of these apps from the Google Play Store and install it on your phone. Below we describe the steps we had to follow for the MNML screen recorder.
After installing the MNML screen recorder, tap the icon to open the app.
Grant all necessary permissions and start screen recording.
Open WhatsApp and make the video call as you normally would.
You can always stop the recording halfway.
To view the recorded file, open MNML again and the file will be listed. Tap it to start playback.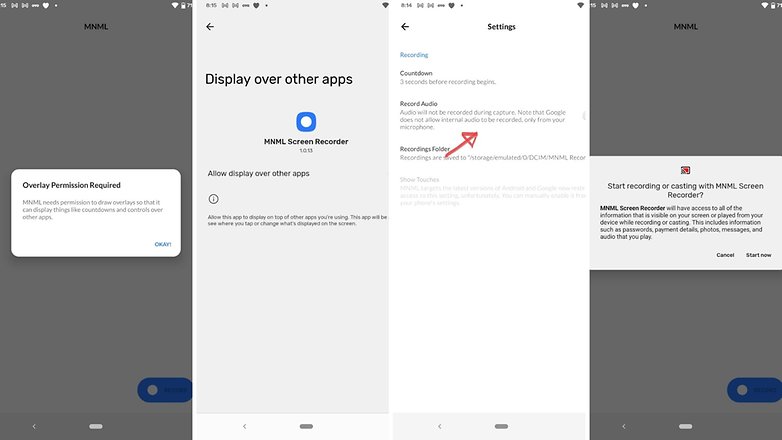 Note: You may find that the video has no sound from either party when using Android 11 or Android 12. This is because Google is no longer allowing internal audio to be recorded.
Record WhatsApp calls on MIUI
Xiaomi devices running MIUI come with a very powerful screen recording app. It can be accessed via the drop-down menu. However, before you start recording WhatsApp video calls, there are a few things you need to make sure of so that you can hear both party's voice in the final recording.
Swipe down to reveal the quick settings menu
Long press Screen recorder to open the app (if you don't see the app here, swipe right or left)
Tap the icon in the top right corner to open the settings page
Scroll to the option that says Sound source and make sure you have chosen microphone Instead of System tones.
Before you call, swipe down to start the screen recorder
Open WhatsApp and make a normal video call.
Stop the recording at any time during (or after) the call using the on-screen switch.
You can see the recorded video call in the gallery.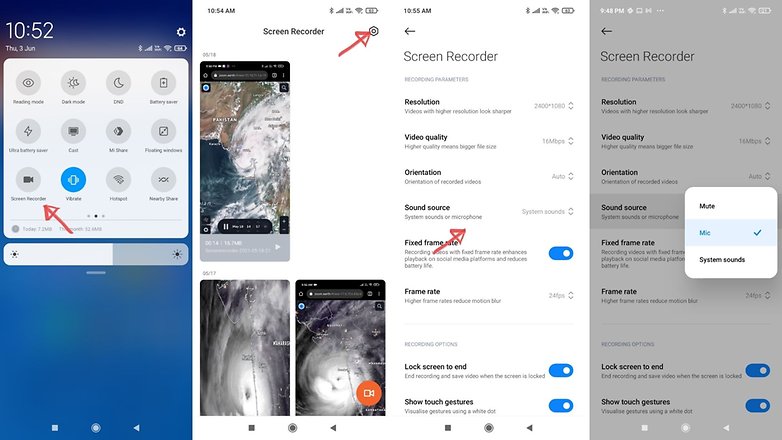 WhatsApp video calls and privacy
While we understand that you were here to quickly learn how to record a WhatsApp video call, it is important that you understand why it has become increasingly difficult to do this with the results you want. You landed on this article is likely because you know that WhatsApp doesn't natively support the call recording feature – and you happened to be looking for an alternative method.
As Google reinforces various privacy aspects of Android, we may look to a future where existing methods of recording WhatsApp video calls may no longer work. Over the past two odd years, Google has made major privacy-conscious changes to Android to make it inherently more secure. As part of this, Google made several changes to the call recording feature on Android phones.
While some local firmware versions don't even allow users to record voice calls, in regions where this feature is still available (like India, where I live), it is no longer possible for anyone to discreetly record a call. The basic idea behind this is to ensure that everyone you are speaking to knows that a call is being recorded. This very implementation (Google prohibits the recording of internal audio) is causing problems when recording WhatsApp video calls with voice on several new smartphones. And it looks like this "problem" will remain.
When it comes to recording WhatsApp video calls, it is also important to be aware of local data protection laws. If local laws in your country prohibit recording video calls, you could get into trouble recording video calls illegally. Since WhatsApp is widely used around the world, we cannot provide guidance in this article on how to verify the legality of WhatsApp video call recording in your country. What we can say, however, is to only record WhatsApp calls when needed and only use this feature when needed.
More on this topic:
---
This article was last updated in June 2021. Older comments have been retained.