Do you get the following message when an app crashes? Unfortunately YouTube stopped, unfortunately Facebook stopped, or Unfortunately WhatsApp has stopped? Actually, the respective app doesn't matter, any app can suffer from this misfortune and give a similar message. But there are ways to solve it. Here's how to fix it Unfortunately the app stopped Error.
In March 2021, Android users around the world had a problem with multiple apps crashing. This problem particularly affected people using Samsung smartphones. While Google is working on a solution to this problem, one method that appears to work for people all over the world is to remove a recent Web View update to the Android system. Let's see how to do it in simple steps. Note that these steps will vary depending on your phone's custom user interface. The following steps are for standard Android users. For Samsung users, click here.
Go to the Settings menu
Scroll to Apps and notifications and tap to open
Tap the "See all apps" link. This will bring up the list of all the apps installed on your phone
Scroll to Android System Webview and tap to open it
Tap on the three dots in the upper right corner and click on "Uninstall updates".
You will get a popup. Choose OK.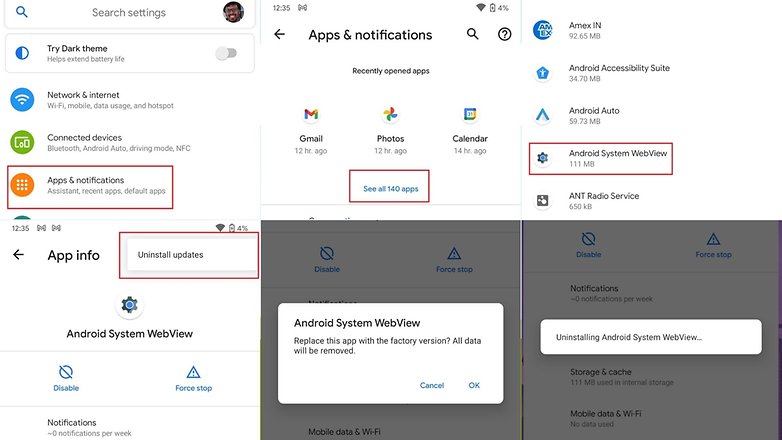 For most phones, these steps should fix the problem.
How to uninstall Android System Webview Updates on Samsung Smartphones
You can do the same thing on Samsung smartphones by following the steps below
Go to Settings'
Scroll to 'Apps'
Look for "Web" in the apps list and you will see the "Android System Webview" app. Open it
In the right corner, tap the "Uninstall Updates" option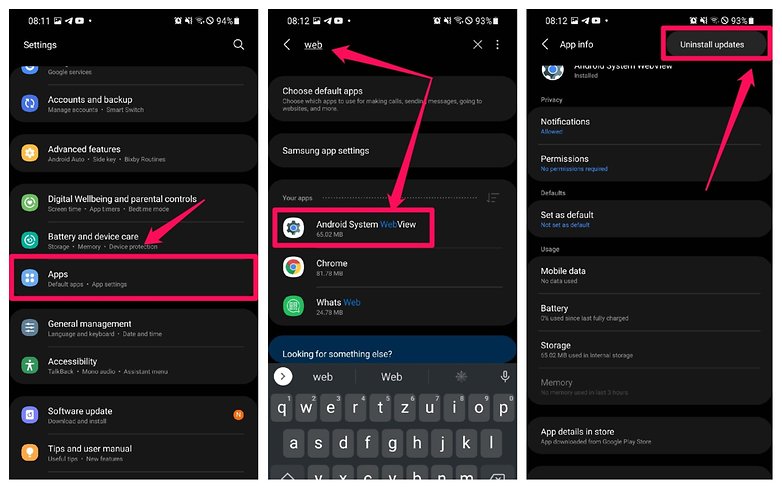 This problem is common with the Contacts, Gallery, and Launcher apps. The procedure for resolving this problem is generally the same.
Go to first the settings on your device.
Apps and notifications then app info
Scroll to the app that is causing problems and tap on it.
In the next menu, press warehouse
You can find them here delete data and clear cache Options.
clear cache is the option to start with. Saved data is removed so that apps can load a little faster when they start. If you delete it, the app will open a little slower, but your main problem may be solved.
delete data erases all data in the app, including files, settings, and accounts. So only use these if you have to.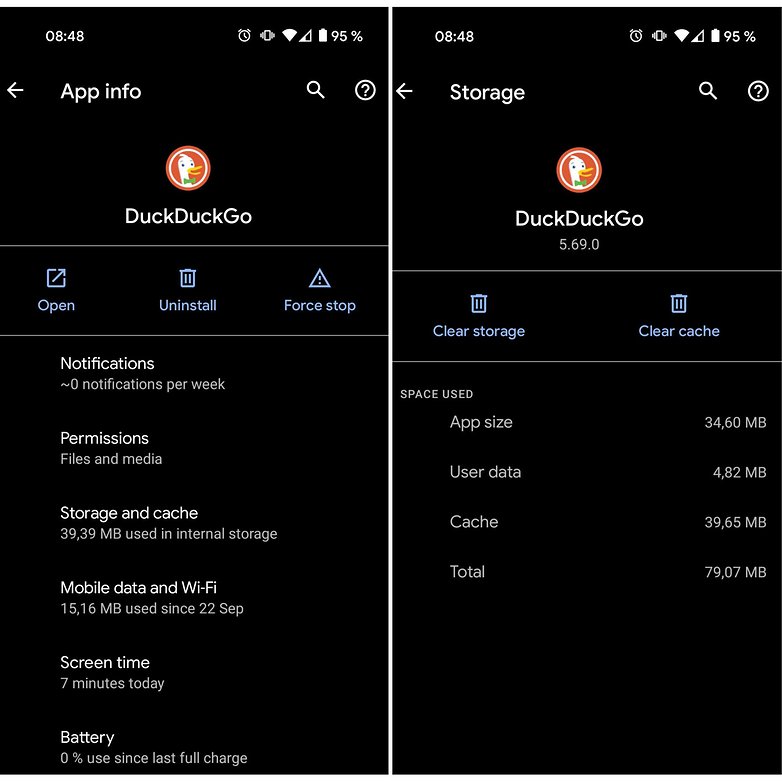 Thanks to Paul in our comments section for pointing out that this error could also be related to a damaged memory card. If the memory card is damaged, all apps that write to the memory card will experience such an error.
To check, just remove the memory card and launch the app that has stopped working. If it works, you have your culprit. If this turns out to be the case, you will need a new memory card. However, you should still be able to transfer the data from your memory card to your PC as a backup.
Of course, if you're not using an SD card, skip to the next step.
If the app isn't integrated, you can uninstall it and then reinstall it from the Google Play Store. Just open the Play Store app, open the menu bar on the left and tap My apps and games. Find the app in question and click Uninstallwhich takes a few seconds. You can then reinstall it.
You can also try performing a soft reset, which will simply mean restarting your device. This is very easy and very effective if your phone has been on for a long time. A soft reset turns the phone off and back on and off and on again.
It is a good idea to turn off your phone every few days for a few minutes. This helps a sluggish phone with a wide variety of issues, whether they're app, network, audio, or email related.
If the above solutions failed, you can do a factory reset on your phone. When doing a factory reset, make sure you have backed up all of your data beforehand. I repeat: back up all of your data first. A factory reset will erase your device and reset it to factory settings, taking everything, including any errors, with it. You can then easily restore your apps and data as long as you have a backup.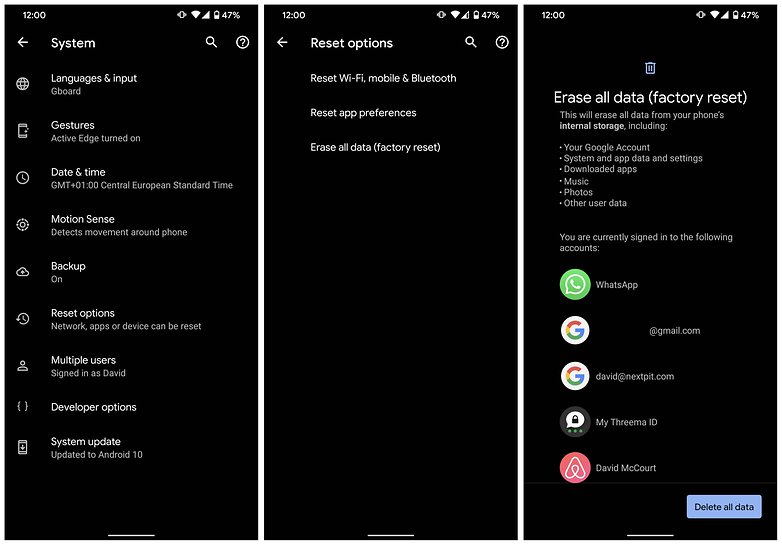 For more information on how to factory reset your phone, please see our Factory Reset Guide for Android.
If Google Play itself isn't working, the solution is a little more extensive: clear the cache as the first step. If that doesn't work then delete your data and finally uninstall all Play Store updates. The same steps apply to Google Play Services, but try them one by one. You don't want to lose all Play Store settings for no reason. For more advice, see the full tutorial on what to do when the Google Play Store is not working.
Did these solutions fix the problem for you? What other fixes do you know of these little pesky Android issues to share with other beginners? Tell us in the comments.
Read more on NextPit
---
This article was last updated on March 23, 2031. Older comments have been retained.