With the purchase of Apple AirTags, you can finally protect yourself from annoying key searches in and around your home. Not quite, because your iPhone needs the U1 chip to activate this function. So if you're using an iPhone older than iPhone 11, we'll show you at a glance how limited its functionality is.
Accurately searching for objects is surely one of the coolest features of Apple's new AirTags. This is because this item tracker allows you to pinpoint key chains, wallets or other related items. To this end, Apple combines information from cameras, motion sensors and ultra-broadband technology, among other things.
iPhones with U1 chip
These iPhone models can closely track the AirTags
Apple iPhone 11
Apple iPhone 11 Pro
Apple iPhone 11 Pro max
Apple iPhone 12
Apple iPhone 12 Pro
Apple iPhone 12 Pro max
Apple iPhone 12 mini
To use ultra broadband, you first need an iPhone with a U1 chip. Apple only integrates this chip from the iPhone 11. If your iPhone is not listed in the table as shown above, the AirTags are a little less practical (although still useful). Still, it can be worth buying, and that's exactly why I've summarized the functions for an iPhone without a U1.
The AirTags are so practical without the U1 chip
Tracking via the "Where is?" App
As Fabien wrote in his AirTags review, the only big benefit to this tracker is that it lets you track down lost items. To this end, Apple has put the new accessories in the "Where is?" App in which the AirTag is constantly looking for contact with other iPhones or other compatible Apple hardware.
So, if your key accidentally fell out of your pocket while standing on a park bench, there is a good chance someone else will come over with an iPhone. The AirTag then sends a location that you can then retrieve on your PC or iPhone.
Precise location via sound
Once you get there, or the keys are hidden somewhere in the deep recesses of the sofa, you can use another tool to pinpoint the exact location of the item. There is a small loudspeaker in the AirTags that can emit sound if necessary. This way you can hear where the lost object is.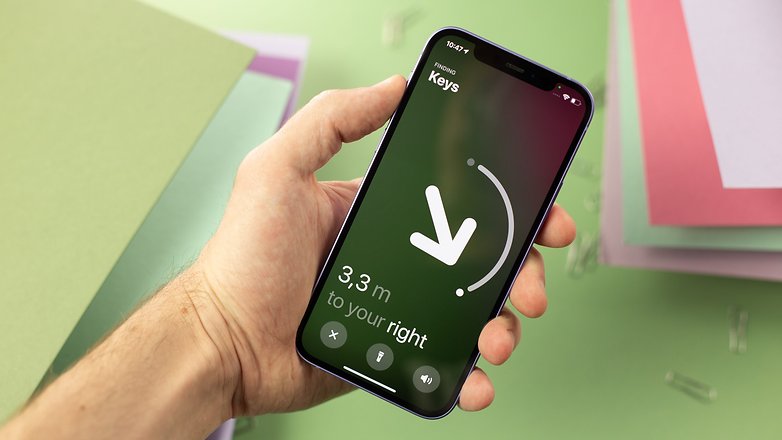 By the way, this speaker also emits a sound when the AirTag is in motion and your iPhone is not nearby. This is how Apple prevents the AirTag from being used to covertly track people.
Digital identification tag thanks to NFC
Another advantage of the AirTag is that both iPhones and Android smartphones can read data from the AirTag's NFC chip. Apple integrated this feature to make it easier to send contact information if an item is lost.
If you, as an Android user, find a number of keys with an AirTag, all you have to do is hold your smartphone over them – provided it supports NFC of course – and read the information displayed via a corresponding app. If everything goes as expected, you now know who to contact to return the key.
Everything about costs and accessories
Did the functionality of AirTags convince you to use them even though you are using an older iPhone? In this case we have summarized everything about the costs and accessories of the AirTags in a separate article. Alternatively, you can use the following two links to go directly to the product page in the Amazon Store.
One more question: have you tried the Apple AirTags yourself? How was your first experience with it?